What Acne Facials Can Do for Your Skin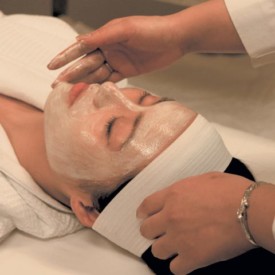 Several of our services will provide help with acne prone skin. Our detoxifying "Acne facial" will deeply clean, calm and restore irritated and blemish prone skin.
We can clear current breakouts and prevent future ones with the "Blackhead Relief". Our "Oil Control" helps control oil production while reducing oil shine.
"Rapid Spot Clearing" helps skin recover from inflamed lesions while drying and clearing breakouts.
We are located in St Louis, Missouri at 11124 South Towne Square, Suite 103, 63123.

Convenient to West County MO, in South County, MO & Near Hwy 55 & 270 off South Lindbergh and Hwy 55, near Aldi's and Denny's at St. John's Church Road and directly across the street from the Costco & Target.
Several of our services will provide help with acne prone skin. Our detoxifying "Acne facial" will deeply clean, calm and restore irritated and blemish prone skin.
Do you suffer with blackheads and other non-inflammatory blemishes?  You'll find acne facials can make your skin look better, and reduce the amount of breakouts you have. Acne facials are especially good for comedonal acne (blackheads and whiteheads).
During an acne facial treatment, extractions are performed by manually removing pore blockages, or comedones, giving you an immediate improvement in the look and feel of your skin. If you come in for acne facials regularly, you'll notice an improvement of comedonal, or non-inflammatory, acne. Continue with your acne treatments between facials to keep breakouts from recurring.
Mild inflammatory acne can be treated by us, but acne facials alone generally won't clear inflammatory acne. If you have moderate to severe acne, you should see a dermatologist. Our licensed esthetician will know when a case of acne is beyond her expertise and will refer you to a doctor.
What happens during an acne treatment facial?
During an acne facial, the esthetician begins by thoroughly cleansing the skin. Various masks, steam baths, and facial massage may be incorporated into the treatment.  Products may be used to reduce surface oil, remove dead skin cells, soothe, or hydrate.
Also products may be recommended  for at-home use, like cleansers and moisturizers, that won't aggravate your acne.
If the skin is at all inflamed, extractions will be held at a minimum if they are done at all.
No one, not even an esthetician, should attempt to extract deep inflamed blemishes such as nodules and cysts.
If you decide to make acne facials a part of your skin care routine, remember you will get the best results if they are done regularly. Be sure to tell our esthetician about all topical and oral medications you are currently using to avoid unwanted reactions.
For example, vigorous exfoliation should not be done on anyone taking Accutane (isotretinoin) or using topical retinoids like Differin or Retin A. If a dermatologist is treating your acne, it's always a good idea to talk to him or her before having any facial treatment done. [Source: Gerson, Joel; Ph.D.. Standard Textbook for Professional Estheticians. 8th edition. Albany, NY: Milady Publishing, 1999.]
Located at 11124 South Towne Square, Suite #103, St. Louis, MO 63123
Providing Services for St. Louis South, West County Areas, Jefferson County & Illinois Since 1987.
Conveniently located just 2.0 Miles from Hwy 55 & 270 off South Lindbergh & St. John's Church Drive
by Denny's & the new Aldi's. Area is located directly across the street from Costco & Target in South County.

Serving St. Louis, MO, City of St. Louis, MO, South County, West County, Affton, Ballwin, Brentwood, Chesterfield, Clayton, Crestwood, Creve Coeur, Des Peres, Ellisville, Eureka, Fenton, Festus, Frontenac, Glendale, Grantwood Village, Green Park, Herculaneum, High Ridge, Hillsboro, House Springs, High Ridge, Huntleigh, Jefferson County, Kirkwood, Lakeshire, Marlborough, Mehlville, Oakland, Pacific, Pevely, Richmond Heights, Riverview, Rock Hill, Shrewsbury, Sunset Hills, Town & County, University City, Valley Park, Warson Woods, Washington, Webster Groves, Wildwood. Surrounding Illinois areas, Alton, IL, Belleville, IL, Breese, IL, Cahokia, IL, Caseyville, IL, Collinsville, IL, Columbia, IL, Dupo, IL, East Alton, IL, Edwardsville, IL, Fairview Heights, IL, Glen Carbon, IL, Godfrey, IL, Highland, IL, Maryville, IL, Milstadt, IL, Scott AFB, Troy, IL, Waterloo, IL.