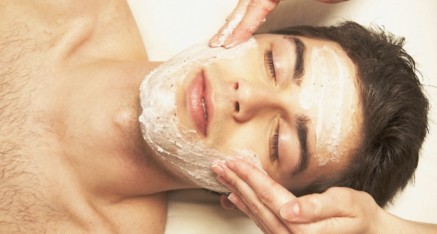 Improve the well being and look of your skin with a treatment focused on the particular demand and needs of men's skin.
We are located in St Louis, Missouri at 11124 South Towne Square, Suite 103, 63123.
Convenient to West County MO, in South County, MO & Near Hwy 55 & 270 off South Lindbergh and Hwy 55, near Aldi's and Denny's at St. John's Church Road and directly across the street from the Costco & Target.
3 Good Reasons to Get a Facial

1. Men Produce More Oil

"In general, men have higher testosterone levels than women, which helps explain why men produce more oil," says Dr. Joshua Zeichner, director of Cosmetic and Clinical Research in Dermatology at Mt. Sinai Hospital. When not cleaned properly, oil will clog your pores and can lead to blackheads, which can lead to pimples. Most estheticians will perform extractions during a facial, which is the very precise removal of oil and dirt that's clogging pores. Do this yourself at home and risk serious skin damage, but in the right hands, the result is clean, clear skin.

Just because men produce more oil doesn't mean all men have oily skin. Part of the reason facials are so effective is that estheticians understand your skin type and its needs. For dry skin types, you'll need a facial that leaves your skin hydrated and moisturized. "If you have oily skin, you will need a facial that decreases your shine, shrinks your pores and exfoliates your skin," says Santa Monica-based dermatologist Ava Shamban.

2. You'll Get a Smoother Shave

Whether it's everyday or every two weeks, the continuous dragging of a razor across sensitive facial skin can cause irritation. Razor burn, inflammation, and irritation from shaving over pimples are common consequences of shaving, says Dr. Zeichner. A facial will deep clean bumps and soothe irritated skin. The combination of exfoliation, essential oils, masks, and moisturizers that an esthetician typically applies will address shaving's side effects and make your skin smoother than ever. The smoother your skin, the better and less painful your shave. Even if you aren't worried about wrinkles, this is one of the best reasons to slap on some moisturizer once or twice a day.

3. The Pros Can Teach You

According to Dr. Shamban, estheticians use better, more effective products that aren't sold over the counter. They can show you new techniques on how to apply products, the order in which to use them, and explain why. Chances are, you'll be relaxed and if you want to check out, fine. But you can use this opportunity to ask questions. "What are you putting on my face?" "Why is that product going on first?" Estheticians also use professional steamers to open your pores. It's better than sticking your head over a pot of boiling water…which we know you aren't doing, right. Men's Health
Located at 11124 South Towne Square, Suite #103, St. Louis, MO 63123
Providing Services for St. Louis South, West County Areas, Jefferson County & Illinois Since 1987.
Conveniently located just 2.0 Miles from Hwy 55 & 270 off South Lindbergh & St. John's Church Drive
by Denny's & the new Aldi's. Area is located directly across the street from Costco & Target in South County.

Serving St. Louis, MO, City of St. Louis, MO, South County, West County, Affton, Ballwin, Brentwood, Chesterfield, Clayton, Crestwood, Creve Coeur, Des Peres, Ellisville, Eureka, Fenton, Festus, Frontenac, Glendale, Grantwood Village, Green Park, Herculaneum, High Ridge, Hillsboro, House Springs, High Ridge, Huntleigh, Jefferson County, Kirkwood, Lakeshire, Marlborough, Mehlville, Oakland, Pacific, Pevely, Richmond Heights, Riverview, Rock Hill, Shrewsbury, Sunset Hills, Town & County, University City, Valley Park, Warson Woods, Washington, Webster Groves, Wildwood. Surrounding Illinois areas, Alton, IL, Belleville, IL, Breese, IL, Cahokia, IL, Caseyville, IL, Collinsville, IL, Columbia, IL, Dupo, IL, East Alton, IL, Edwardsville, IL, Fairview Heights, IL, Glen Carbon, IL, Godfrey, IL, Highland, IL, Maryville, IL, Milstadt, IL, Scott AFB, Troy, IL, Waterloo, IL.