What Factors Determine My Electrology Treatments?
Permanently removing the hair involves destruction of stem cells (future hairs), the matrix with dermal papilla (source cell of nourishment); eliminating the treated follicles mechanism for hair production with effective treatment. However all of the variables listed below must be considered factors in electrology treatments.

Hair growth results primarily from heredity and/or systemic influences (hormone levels, receptor cell sensitivity, medications, and stress). The growth cycle is a primary factor, as a follicle must be producing a hair with the shaft above the skin surface to be treated.
Electrology treatments are successful when the blood supply and surrounding growth cells are destroyed, however, the procedure itself does not address why the hair growth may have occurred.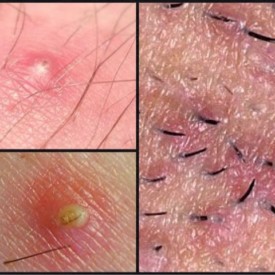 Additional considerations for effective treatment may include skin sensitivity, moisture gradient, tolerance, hair texture, and previous methods.
Distorted follicles represent a challenge, since inserting a probe and delivering current to the base of a curly or wavy follicle may be more difficult. These follicles occur in black skin, individuals with natural curly or wavy hair, or by repeatedly traumatizing the hair follicle with tweezing or waxing. Distorted hair follicles are evidenced by embedded or ingrown hair or frequent breakouts in areas where tweezing has occurred. The single most important thing to remember is that areas must be treated consistently, so the electrologist is treating actively growing hair. In other words, before the hair has become "deeply rooted", and before it has reached its full length. Follicles in the earliest stage of growth, are more fragile and easier to destroy. Facial hair normally regenerates at between 6-12 weeks. Body hair is less vascular and regenerates slower within about 8-20 weeks.

"Tweezing and Plucking"
by Michael Bono
Electrology Now
Santa Barbara, CA
August 6, 2016
"What Happens When You Tweeze a Hair?"
.
During the initial consultation and throughout the treatment the electrologist will discuss the role these factors play in the process. Estimates regarding overall length of treatment may be given only in generalities as each individual circumstance will vary according to these many factors.Understanding the nature of hair growth will enable the patient to have reasonable expectations and assist in making the commitment necessary to achieve the desired results.
Support Websites for PCOS Patients and Other Information:
Call Us Today! 314-843-7455
Located at 11124 South Towne Square, Suite #103, St. Louis, MO 63123
Providing Services for St. Louis South, West County Areas, Jefferson County & Illinois Since 1987.
Conveniently located just 2.0 Miles from Hwy 55 & 270 off South Lindbergh & St. John's Church Drive
by Denny's & the new Aldi's. Area is located directly across the street from Costco & Target in South County.

Serving St. Louis, MO, City of St. Louis, MO, South County, West County, Affton, Ballwin, Brentwood, Chesterfield, Clayton, Crestwood, Creve Coeur, Des Peres, Ellisville, Eureka, Fenton, Festus, Frontenac, Glendale, Grantwood Village, Green Park, Herculaneum, High Ridge, Hillsboro, House Springs, High Ridge, Huntleigh, Jefferson County, Kirkwood, Lakeshire, Marlborough, Mehlville, Oakland, Pacific, Pevely, Richmond Heights, Riverview, Rock Hill, Shrewsbury, Sunset Hills, Town & County, University City, Valley Park, Warson Woods, Washington, Webster Groves, Wildwood. Surrounding Illinois areas, Alton, IL, Belleville, IL, Breese, IL, Cahokia, IL, Caseyville, IL, Collinsville, IL, Columbia, IL, Dupo, IL, East Alton, IL, Edwardsville, IL, Fairview Heights, IL, Glen Carbon, IL, Godfrey, IL, Highland, IL, Maryville, IL, Milstadt, IL, Scott AFB, Troy, IL, Waterloo, IL.